Monet Water Lilies Musical Box
---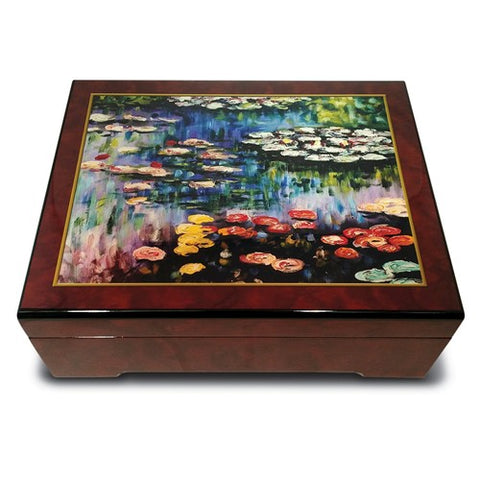 Water Lilies is not one painting by Monet.

The title Water Lilies refers to a series by the father of French Impressionism. Over the course of the series, Monet painted countless individual water lilies in around 250 oil paintings. Before he painted Water Lilies, Monet planted them. On the day after Armistice Day in 1918, Monet promised his homeland a "monument to peace" in the form of massive water lily paintings.

The beauty of the French village Giverny struck Monet when he passed through on a train. The artist was so inspired that in 1883 he rented a house there; it would become his home in 1890 (which was as soon as he could afford it)

Critics called the Impressionist paintings messy and suggested the works were less about a creative vision than Monet's blurred vision. As his eyes were failing, critics sneered at Monet's color palette and his argument that his depiction of flora, water, & light was an artistic choice, spurring an initial disdain of Monet's now-revered series.

Weight: 2.5LB
Length: 7 inches
Width: 7 inches
Height: 3 inches
Music: "Plays ""Waltz of the Flowers"

Related Products
---