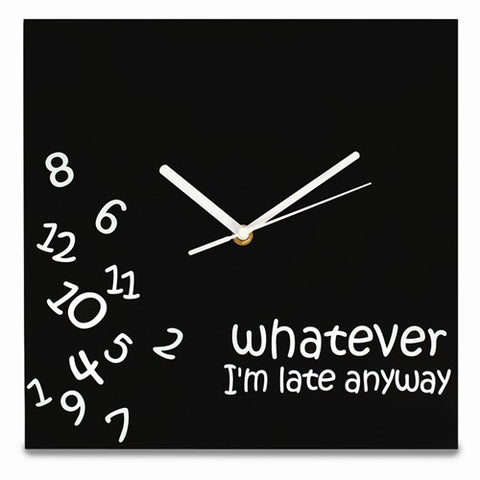 FOR SOMEONE WHO'S ALWAYS LATE - From its hilarious, flippant expression to its haphazard jumble of numbers, the Whatever Wall Clock perfectly captures the hustle and bustle of rushing out the door. Get one for yourself or give this unique wall clock as a gift to a notoriously late friend. You'll both love the good-natured humor of the Whatever Wall Clock.
UNUSUAL & HUMOROUS CLOCKS - The Whatever Wall Clock by ARAD, both unique and delightfully humorous, is a great conversation starter and whimsical decorative accent. No matter where it's located, this clock is sure to inspire smiles and notable comments. Our clocks are battery operated without troublesome cords or wires. No plug-in outlets required to keep time ticking here.
SQUARE WALL CLOCK - For added fun and quirkiness, our Whatever Wall Clock breaks the mold with a perfect square shape, measuring 12" x 12". The clock comes in either white or black, with a jumble of numbers splattered around the perimeter. However, two essential hands perfectly let you know the exact time–and just how late you're running. This square clock complements nearly any existing decor, adding a timely bit of fun to any room or space.
FUN FOR KIDS & ADULTS ALIKE - These funny wall clocks are great for all ages, and appeal to both men and women. The lighthearted humor of this "Whatever" clock will delight children while remaining applicable and relatable for adults. These crazy clocks are guaranteed to amuse and entertain anyone. Whatever the occasion, it's never too late to treat yourself or a friend to the Whatever Wall Clock.
VERSATILE PLACEMENT - While our clocks make superb wall clocks for kitchen, bedroom, bathroom, and living room locations, your imagination is the limit when it comes to finding the perfect spot. Add a Whatever clock at the office or gift it to a teacher at school. It's easy to display this clock on walls, tables or desks with the simple attachment on the back or a small easel. Hang or position it anywhere with ease and no hassle.
Related Products
---