Sterling Silver 14KY Gold Accent diamond Bangle Bracelet
---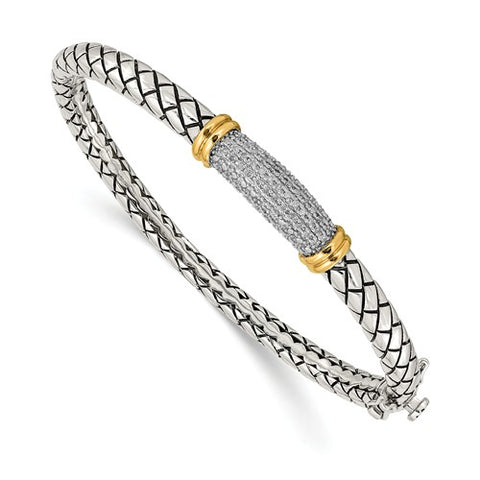 Here we have a gorgous bangle bracelet that has an amazing universal appeal. There is a little luxury in Every part of this stunning piece. From it's Sterling Silver to the 14K Yellow Gold Accents not to mention the delicious layer of diamonds to perfect top off this piece. 
The word bracelet comes from Greek word "brachile" meaning "of the arm" The word 'bracels' described armbands made of leather and decorated with gold, silver and gemstones and worn by Greek soldiers. Women began to wear smaller versions and called them Bracelets. In Indian culture the sound of bangles in a house keeps the unwanted negative energy away.

Blood circulation and energy: Normally the wrist portion is in constant activation on any human. Also, the pulse beat in this portion is mostly checked for all sorts of ailments. The Bangles used by women are normally in the wrist part of one's arm, and its constant friction increases the blood circulation level. And, the electricity passing out through the outer skin is again reverted to one's own body because of the ring-shaped bangles, which have no ends to pass the energy outside but to send it back to the body.

In China, jade is the bangle of choice and has been prized for over 7,000 years in the same manner that gold and diamonds are cherished in Western nations. The more jade bangles worn, the clearer, purer, and more powerful it becomes.  As with Indian women, the Chinese women adopt the same philosophy that bangles should be worn at all times and if the Jade becomes dull, it means that a lot of negativity or illness is being absorbed the jade. Folk lore dictates that jade bracelets are passed from generation to generation (mother to daughter) as a symbol of their love and protection.
Weight: 20.46G
Metal: Sterling Silver
Accent: 14K Yellow Gold
diamond Weight: 0.2 CT
Bracelet Type: Bangle
Length: 7 inches
Width: 8 mm
Clasp: Hidden Catch
Feature: Hinge
Feature 2: Safety Clasp
Feature 4: Solid
Finish: Polish
Feature: Antique
Texture: diamond cut
Gemstone Type: diamond
Gemstone Colour: White
Gemstone Quantity: 40 mm
Gemstone Weight: 0.005 CT
Related Products
---