925 Sterling Silver Turquoise French Wire Earrings
---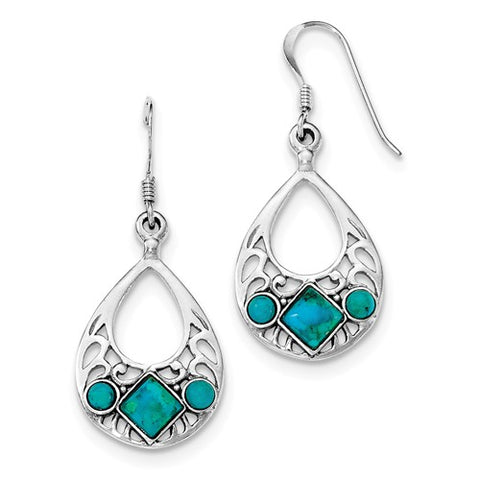 The name turquoise is apparently related to the fact that is was brought to Europe from the Eastern Mediterranean by Levantine traders, more commonly known as Turks.  Its been used as a valuable ornament for ages and was used by the Egyptians thousands of years ago. The color is, of course, turquoise, but its range of color varies from green and greenish blue to sky blue shades.

Turquoise is sacred to many Native American's and was carved in the shape of animals and birds. These carvings were placed in the Indians tombs to attract beneficial spirits and to guard the dead. Turquoise was also used by medicine men for healing and by warriors who fixed turquoise to the end of their bows to insure accurate shots.
Turquoise attracts money, success and love. Its powers include protection, healing, courage, friendship, and luck. Relaxes the mind, and eases mental tension.

The Aztecs mined turquoise in an area now known as New Mexico and a significant amount of turquoise comes from Arizona, California and Nevada in the United States.


Weight: 3.51G
Metal: 925 Sterling Silver
Length: 40 mm (1.5 inches)
Width: 18 mm (0.70 inches)
Earring Closure: French Wire
Feature: Solid
Gemstone Type: Turquoise
Related Products
---