925 Sterling Silver Pavé Panda CZ Necklace
---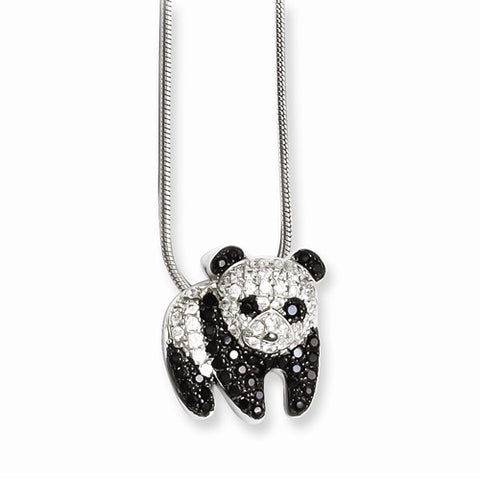 Pandas have lived on Earth for two to three million years. Giant pandas have 42 teeth. Like humans, giant pandas have two sets of teeth in their lifetime.

A giant panda's face is cute, but it is not chubby. It gets its shape from massive cheek muscles. In fact, a giant panda's jaw and cheek muscles are so powerful that a panda can easily chew an aluminum dish into tiny pieces. They can also easily bite through a thick bamboo stalk. Humans have trouble cutting the same stalk with an ax.

A giant panda can peel and eat a bamboo shoot in about 40 seconds.

It is very rare to see more than one panda at a time in the wild. Giant pandas cannot afford the energy it would take to compete with one another for food, territory, and mates.
Weight: 1.62G
Metal: 925 Sterling Silver
Chain Length: 18 inches
Chain Width: 1 mm
Charm/Element Length: 15 mm
Charm/Element Width: 12 mm
Feature: Solid
Gemstone Type: Cubic Zirconia (CZ)
Gemstone Colour: Clear
Gemstone Quantity: 84
Gemstone Type: Cubic Zirconia (CZ)
Gemstone Colour: Black
Gemstone Quantity: 84
Related Products
---