925 Sterling Silver Genuine Emerald Hoop Earrings
---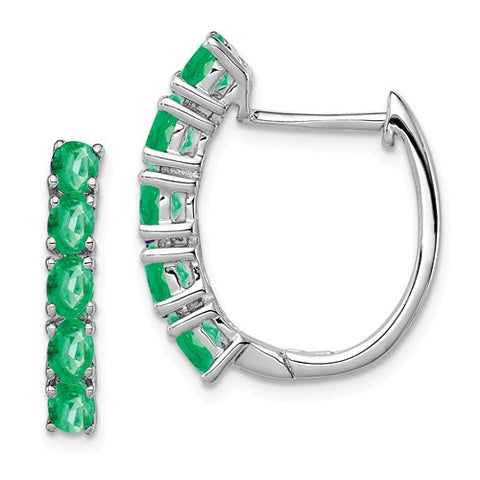 If you hold this dazzling Emerald Up to the sky, It will shine a billion Beautiful marvoulous miracles. Painted From the Tears of The Most High. Plucked from the lushous gardens of a pretty yellow green paradise, Look inside this hypnotic gem & a colourful kaleidoscope of Titillating, Soul raising Sights Will tease & seduce Your Eyes & mind. Tell me, Sir. Have you ever heard A peacock sing? Hold your Ear To this Mystical Magical tone & you too shall hear the Sacred Hymns flowing To the Vibrations of The Planet's Wind of Perfume.
The road to the City of Emeralds is paved with yellow brick. Love is an Emerald. Its brilliant light wards off dragons on this treacherous path. The Emerald condenses the green of the meadows and certain aspects of the ocean. Emeralds are the birthstone for May. The stone is often associated with desirable traits such as loyalty, faithfulness & friendship.
The colour itself symbolizes rebirth, nature & vitality. The stone was often associated with growth and spring. the Roman Empire, it was thought that staring at emeralds would soothe tired eyes. According to legend, the Roman Emperor Nero watched gladiator fights through the gemstone, as he found the colour calming, but it was also used for much more than just eyesight. Other healing powers include lifting depression, reducing stress, promoting mental clarity.

Columbia is the world's largest producer of Emeralds. The country is responsible for approximately 50% of the world's emeralds and splits into three main areas of mining; Coscuez, Chivor and Muzo. The Mines of Muzo are often referred to as the emerald capital of the world, and brings great fortune to those who mine there. That said, the precious stone is also produced in over 30 countries, including Brazil, Australia, France, China, Ethiopia, Norway, South Africa, Kazakhstan and Russia to name a few.
Weight: 2.22G
Earring Type:  Huggie
Length: 20 mm (0.78 inches)
Width: 18 mm (0.70 inches)
Closure: Hinge
Finish: Polish
Thickness: 4 mm
Gemstone Type: Emerald
Gemstone Size: 3 mm by 4 mm
Gemstone Quantity: 10
Gem Weight: 1.68 CT
Gem Colour: Green
Related Products
---