925 Sterling Silver Cabochon Lapis diamond Ring
---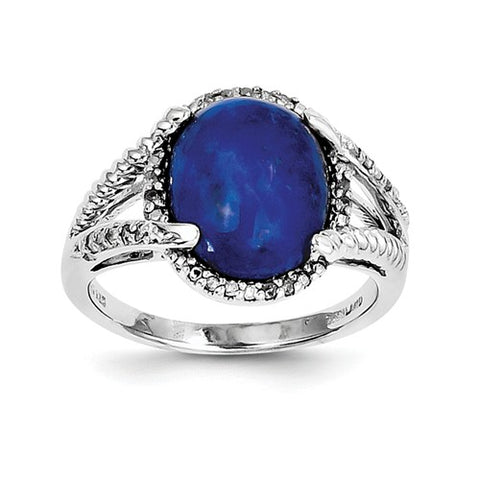 When it comes to spiritual enlightenment, it all starts with the self. The Lapis Lazuli crystal helps us go deep within our spirits to awaken our true destiny and divine purpose. That's a big job for a sedentary object, but you'd be amazed at how this dazzling stone shines a light on the soul and its innate ability to heal.
The color of water, the life-giving element of the planet, the Lapis Lazuli crystal meaning represents the many shades of sapphire blue, the color of self-expression and awareness. Considered a sacred color during the Renaissance, Lapis Lazuli was ground into powder and mixed into paint that was used to for the Virgin Mary's robes and other historic cathedrals.Lapis Lazuli helps bring awareness of the soul and your spiritual purpose in life. For the Egyptians it was the great pyramids.
For you, it's whatever your heart desires. And although we may walk different paths than our ancestors, our destinations are the same--to walk into the light of divine purpose. In the words of philosopher Carl Jung, "Who looks outside dreams. Who looks inside awakens." If you are drawn to the cool and soothing colors of this vibrant stone, it could be a sign that you need help getting out of a spiritual funk. Climb out of the abyss with Lapis Lazuli crystal properties and bring tranquility and spiritual renewal into your life.
Weight: 4.44G
Metal: 925 Sterling Silver
Diamond Weight: 0.12 CT
Width of Item: 2 mm
Feature: Solid
Gemstone Type: Lapis
Gemstone Shape: Oval
Gemstone Cut: Cabochon
Gemstone Size: 12 x 10 mm
Gemstone Type 2:diamond
Gemstone Quantity: 24
Gemstone Weight: 0.005 ct
Gemstone Setting: Pavé
Related Products
---