14K Yellow Gold Sombrero Hat Necklace Charm
---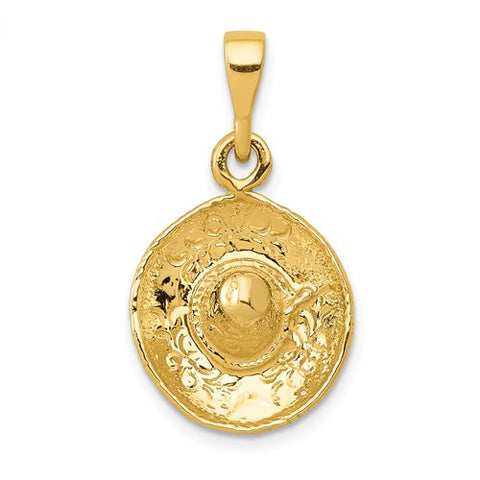 Few hats in the world are more famous than the Mexican sombrero. Modern versions are oversized and gaudy and often caricatured. Inexpensive sombreros are often sold as novelty items or tourist keepsakes. It is surprising to learn, then, that the sombrero has a long and respected history, with origins that remain both mysterious and controversial.
"Sombra" is the Spanish word for shadow. It is thought that the hat's name came from this, as it was built to cast a shadow over the person who wears it. Literally, it means "shade maker." Any hat with a brim is a sombrero in Spanish, while the traditional Mexican sombrero is a "sombrero Mexicana." The term sombrero has spread across the world: In the Philippines, all hats are called sombreros.
The traditional sombrero has a very wide and curved brim, a conical crown and a chin strap. Sombreros worn by workers were woven out of straw, while gentlemen would wear felt sombreros in gray, brown or tan. Many historians believe that the American cowboy hat was inspired by the design of the sombrero. Today you can buy sombreros made out of straw or felt and in many brilliant colors and designs. The largest variety of sombrero looks a little like a 10-gallon cowboy hat and is called a "sombrero galoneados.
Sombreros first appeared in the 15th century. The first people known to wear them were mestizo workers in Mexico and parts of the southern U.S. The mestizo were of mixed Latin and American Indian blood. Some historians think they originated among those people as a practical way to keep the sun off themselves as they worked. Others believe horseback riders in Guadalajara developed the design and used it as a part of their uniform for a symbol of strength and power. Yet a third opinion is that it was brought over from Spain.
The sombrero has become famous in pop culture partly because of the cartoon character Speedy Gonzales, a mouse who always wore a sombrero and spoke in an exaggerated Mexican accent. These days, you can see them worn most often by members of mariachi bands, as a part of their traditional Mexican costumes, and by folk dancers. The highly decorated ornamental hats do not reflect the practicality of the wide-brimmed design, but they do remain an enduring symbol of Mexican cultural heritage.
Weight: 1.89 GM
Metal: 14k Yellow Gold
Length: 26.5 mm (1.04 inches)
Bail Length: 10.1 mm (0.40 inches)
Bail Width: 3.07 mm (0.12 inches)
Charm/Element Length: 18.96 mm (0.75 inches)
Charm/Element Thickness: 5.12 mm (0.2 inches)
Charm/Element Width: 14.14 mm (0.55 inches)
Feature: 3d
Feature: Solid
Finish: Polish
Feautre: Texture
Related Products
---