14K Yellow Gold Pretty Panther Necklace Charm
---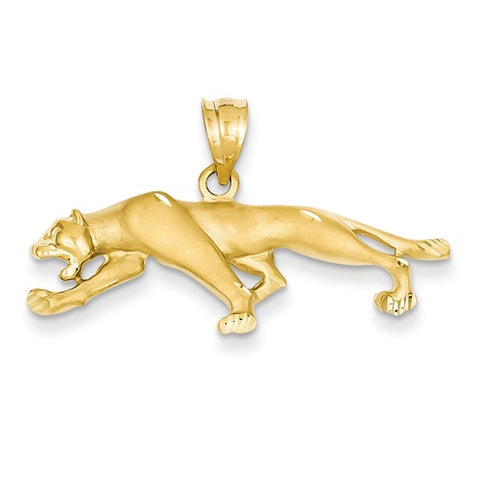 Panthers are the most capable and fast tree climbers in their whole group of animals. It is noticed that they have some really different and interesting tricks for tree climbing.

There is another type of panthers named as yellow panthers and it is really interesting fact that yellow mother panther can have both yellow and black cubs. White panthers are even rarer than the Black Panther. It is the fifth largest species of cat as it has a very large skull and long body, but its legs are short.

Their large skull makes for a very strong jaw, with which they can even attack and kill a giraffe. The total number of white panther in the whole world is just few hundreds. This is a sad fact that this species is disappearing very fast. White panthers are found in the region named 'chitraal' of Pakistan and some other northern areas of the same country.
Weight: 2.57 G
Metal: 14K Yellow Gold
Length: 19 mm (0.74 inches)
Width: 33 mm (1.28 inches)
Feature: Solid
Feature: diamond cut
Feature: Polish
Feature: Satin
Feature: Texture
Related Products
---