14K Two Tone Motorcycle Necklace Charm
---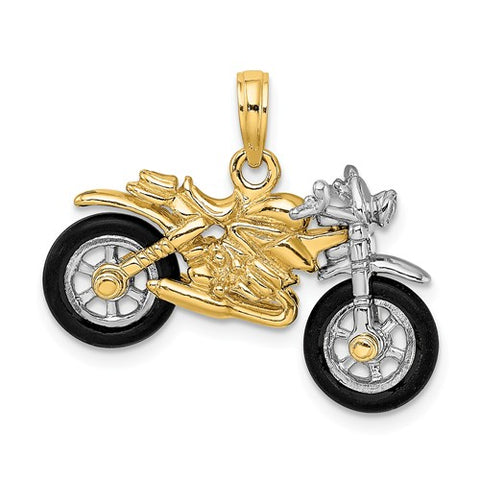 The daimler Petroleum Reitwagen ("riding car") or Einspur ("single track") was a motor vehicle made by Gottlieb daimler and Wilhelm Maybach in 1885. It is widely recognized as the first motorcycle. daimler is often called "the father of the motorcycle" for this invention.First steam-powered motorcycle was made during 1867, in the factory of famous bicycle inventor Pierre Michaux.

The very first Harley davidson motorcycle used a tomato can for a carburetor.

Yamaha began its life in 1887 as a piano manufacturer.

ducati started out as a radio-component company 14 years before before World War 2.

Suzuki's business at the turn of the 20th century was making weaving looms for Japan's then-burgeoning silk industry.

BMW was the first manufacturer to patent and use telescopic forks on its R12 in 1932 – but it doesn't use the system on its big motorcycles today.

Indian's co-founder Oscar Hedstrom was a watchmaker before turning to bicycle repairs, which naturally led to building some of the first motorcycles. The first Indian prototype emerged in 1903.

The Indian Army Team set the world record for the largest motorcycle pyramid ever created. This group of highly trained riders created a massive pyramid consisting of 201 men riding on 10 motorcycles. No other group has yet to beat this record.

Ever wonder what the world's most expensive motorcycle is? This title goes to the Feline One. Produced by the Swiss motorcycle maker Feline Motorcycles, it comes with a staggering price tag of $360,000. Reports indicate that it's made with exceptional materials like carbon, titanium, aerospace aluminum and fine leather. What's really interesting is that it doesn't have any visible signs of fastening, meaning there are no bolts protruding out.

In 2009, a world land speed record was set with a race-prepped Victory Kingpin. This "World's Fastest Victory" set a record at 165.9 mph.

'Vespa' means 'wasp' in Italian.

Modern sports-bike tires don't contain any actual rubber at all. They are made entirely from synthetic rubber, which is beneficial due to a balance between durability & traction.

The record for the longest-ever backwards motorcycle ride was set by Hou Xiaobin in Binzhou City, China, and lasted 150 km (93.2 miles).
Weight: 4.44 G
Metal: 14K Two Tone
Length: 15 mm (0.59 inches)
Width: 26.80 mm (1.05 inches)
Thickness: 4 mm (0.158 inches)
Feature: 3d
Accent: Rubber
Finish: Polish
Feature: Moveable
Related Products
---