14K Yellow Gold Cowboy Boot with Spur Necklace Charm
---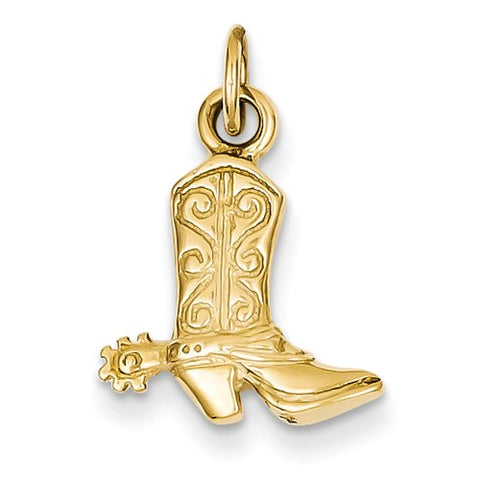 Never approach a bull from the front, a horse from the rear, or fools in any direction
Don't squat with your spurs on.
Don't judge people by their relatives.
Behind every successful rancher is a wife who works in town.
When you lose, don't lose the lesson.
Talk slowly, think quickly.
Remember that silence is sometimes the best answer.
Live a good, honorable life. Then when you get older and think back, you'll enjoy it a second time.
Don't interfere with something that ain't botherin' you none.
Timing has a lot to do with the outcome of a rain dance.
It's better to be a has-been that a never-was.
The easiest way to eat crow is while it's still warm.
The colder it gets, the harder it is to swaller.
If you find yourself in a hole, the first thing to do is stop diggin'.
If it don't seem like it's worth the effort, it probably ain't.
It don't take a genius to spot a goat in a flock of sheep.
Sometimes you get and sometimes you get got.
The biggest troublemaker you'll probably ever have to deal with watches you shave his face in the mirror every morning.
Never ask a barber if you need a haircut.
 


Weight: 1.84 GM
Metal: 14k Yellow Gold
Length of Item: 22 mm (0.8in)
Width of Item: 24 mm (0.9in)
Related Products
---