14K Yellow Gold Antique Singer Sewing Machine Necklace Charm
---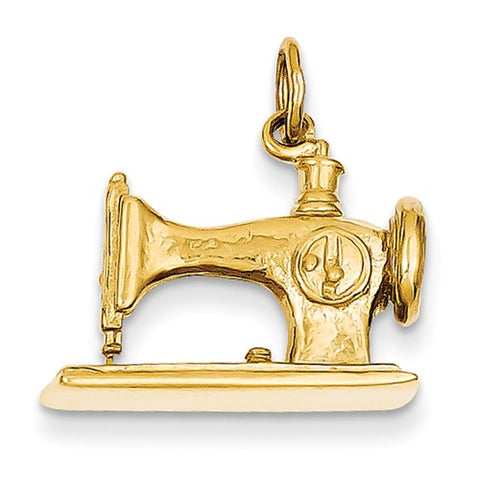 The sewing machine was invented in 1790 by Thomas Saint. Isaac Singer was born October 27, 1811, in Pittstown, New York. In 1850, he invented a sewing machine that operated at 900 stitches per minute. In 1857, he partnered with Edward Clark to form I.M.Singer's patent was the most dominant firm in the industry compared to other competitors.

Early sewing needles were made of bone and ivory. "The whole nine yards," a common phrase, came from the fabric that was needed to make the fanciest coat for a man of fashion.

In the 20th century, more than 4,000 different kinds of sewing machines were made. The 1950's are regarded as sewing's "golden age" because of a strong focus on fashion sewing, designer patterns, and copying Hollywood looks.

Weight: 4.96G
Metal: 14K Yellow Gold
Length: 20 mm (0.78 inches)
Width: 20 mm (0.78 inches)
Feature: Realistic (Three d)
Feature: Solid
Feature: Polish
Related Products
---