14K Yellow Gold Amazing Amethyst Leverback Earrings
---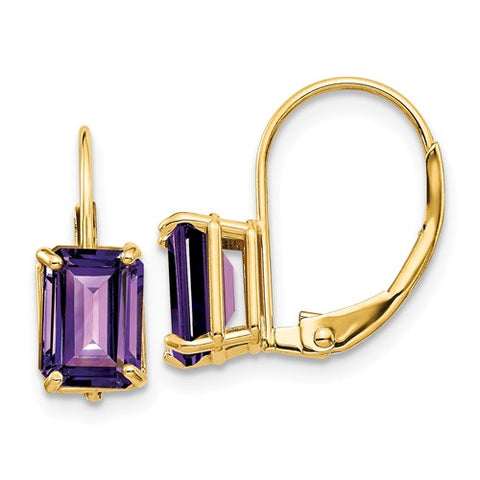 Amethyst can be soaked in water in order to create an elixir for a good skin complexion. Amethyst is the best known stone for the crown chakra. Amethysts and Citrines are called "Sister Stones" since the only difference between them is in color! Catholic Bishops wore Amethyst in a ring to prevent from mystical intoxication.
It was believed that wearing Amethyst would help cure children from Obsessive Compulsive Disorder or ocd.  Amethyst is a calming and meditative stone.  Amethyst is commonly known as the "Stone of Sobriety" since it's believed to confer clarity to its holder.  Amethyst is included in Royal Jewelry collections all over the world, and is mostly famed for being part of the British crown jewels.
When exchanged between lovers, Amethyst is believed to strengthen commitment. Amethyst is believed to promote emotional stability and inner strength. In the times of the ancients, Amethysts were worth as much as diamonds. Ancient Egyptians wore Amethysts as a talisman for protection.

Weight: 1.05 g
Metal: 14K Yellow Gold
Gem Weight: 1.8 CT
Length: 16 mm
Width: 5 mm
Earring Closure: Leverback
Gem Type: Amethyst
Gem Shape: Octagon
Gem Creation: Natural
Gem Color: Purple
Gem Cut: Emerald
Gem Size: 7 mm x 5 mm
Gem Quantity: 2
Gem Weight: 0.900 ct