14K White Gold Blue Sapphire Butterfly White diamond Earrings
---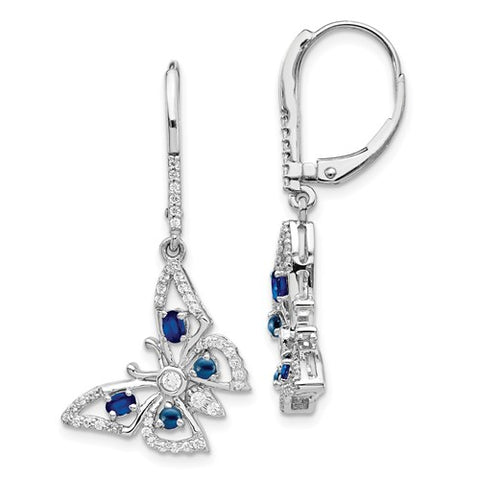 Once, a beautiful, shiny and colourful butterfly was flitting from one flower to another. She saw a baby elephant coming down the path. She flew to him and sat on his ear. The elephant asked, "Who are you? Where are you going?"


The butterfly proudly replied, "I am the most beautiful of all the butterflies. You are ugly and fat. Your body is heavy while I am delicate and light. People are jealous of my colourful wings. I can fly anywhere with these wings."


The elephant calmly said, "I am glad to meet you."


The butterfly went on, "There is no comparison between us. You have four legs but I have six. You have a trunk and I have something like that too but I use it to suck nectar from the flowers. You cannot do that." Just then a strong wind blew and the butterfly could not keep her balance. She cried for help as she was flown away in the wind. But the elephant stood firmly on ground and thought, "I can see how pride has a fall."

Weight: 4.54G
Metal: 14K White Gold
Gem Weight: 1.2CT
diamond Weight: 0.371 CT
Length: 33 mm (1.28 inches)
Width: 16 mm (0.64 inches)
Earring Closure: Leverback
Thickness: 3 mm
Gemstone Type: Blue Sapphire
Gemstone Shape: Oval  
Gemstone Colour: Blue
Gemstone Size: 3 mm x 2 mm
Gemstone Weight: 0.21 ct
Gemstone Type: diamond
Gemstone Size: 2 mm
Gemstone Quantity: 4
Gemstone Weight: 0.09 ct
Gemstone Type: diamond
Gemstone Size: 1.7 mm
Gemstone Quantity: 2
Gemstone Weight: 0.0225 ct
Gemstone Type: diamond
Gemstone Size: 1.5 mm
Gemstone Quantity: 2
Gemstone Weight: 0.015 ct
Gemstone Type: diamond
Gemstone Size: 1.2 mm
Gemstone Quantity: 2
Gemstone Weight: 0.008 ct
Gemstone Type: diamond
Gemstone Size: 0.9 mm
Gemstone Quantity: 64
Gemstone Weight: 0.004 ct
Gemstone Type: diamond
Gemstone Size: 0.8 mm
Gemstone Quantity: 8
Gemstone Weight: 0.003 ct
Related Products
---